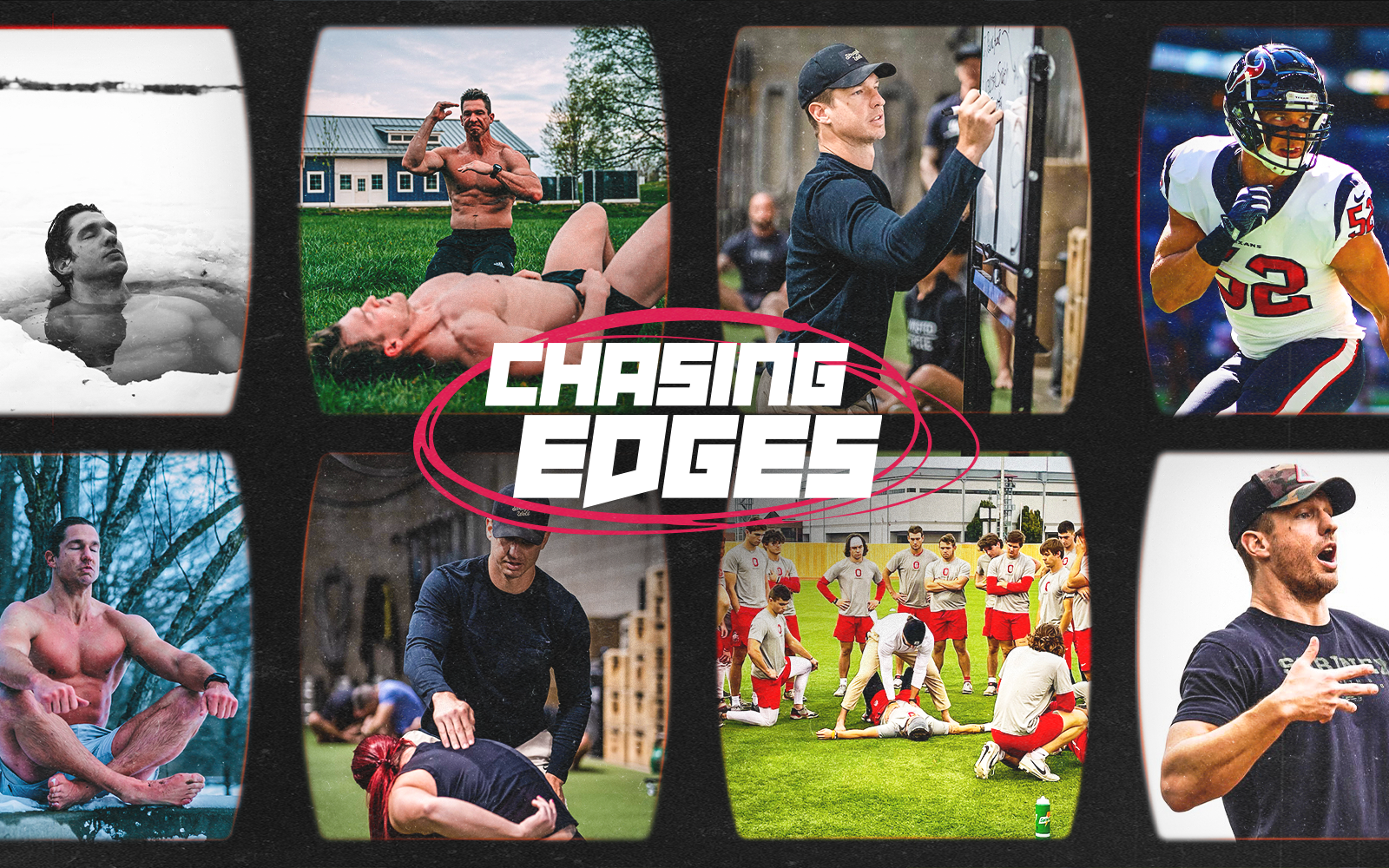 live harder. chase edges.
CHASING EDGES IS A BREATH BASED PERFORMANCE CONSULTING FIRM & PODCAST THAT'S FOCUSED ON DEVELOPING THE EDGES THAT HIGH PERFORMERS PURSUE IN COMPETITION, RECOVERY, AND LIFE.
chasing edges performance
enhancing the human experience.
Chasing Edges Performance is a human performance company committed to bringing our clients to the edge of their potential.
We are Breath Work & Mental Skills based consultants for high performers. Our philosophy improves physical and mental capabilities through the application of research-based tactics for improving respiratory function, energy efficiency, and decision making. Methods incorporating practical tools and knowledge to influence and improve aerobic capacity, recovery, resiliency, stress tolerance, performance anxiety, and personal state control. Our approach addresses psychology through physiological control and mental skills to give you an edge over your competition. 
Train Harder. Train Smarter. Recover Faster. Breathe less, Fight more.
Train Harder. Train Smarter. Recover Faster. Breathe less, Fight more.
CHASING EDGES Podcast
A FOCUS ON THE PURSUIT OF EDGES IN COMPETITION, RECOVERY, AND LIFE.
Host Brian Peters explores the routines and tactics of our favorite athletes, trainers, doctors, and life livers to provide an raw look at what keeps them a cut above the rest.
From the supplements athletes take, the philosophies that guide savage humans, to the protocols doctors and trainers prescribe, Chasing Edges is an adventure into what it takes to get the most out of our minds, bodies, and souls in pursuit of a life well lived.
chasing edges owner
meet brian peters
Brian consults and presents to teams and businesses, and works primarily 1 on 1 coaching clients ranging from members of the US Special Forces to Pro-Bowl NFL Athletes, UFC Fighters, and CEOs. He has also coached/consulted for the Ohio State University Baseball and Soccer Teams, 10th Special Forces Group, Columbus Fire Department, FieldCraft Survival, Sorinex Exercise Equipment, Clean Eatz, Coastal Carolina University, among others.
As well as spoken at health and fitness conferences such as the SWIS Conference and Sorinex's SummerStrong. Alongside MindStrong & Chasing Edges methodologies, he is an Oxygen Advantage Master Coach, BeActivated Certified LVL 2, XPT Performance Breathing Certified, and Westside Barbell Certified Athletic Coach.